Licensed Stores
Kobrick Coffee has a rich and colorful history as one of the country's earliest roasters of fine specialty coffee, operated by the Kobrick family for four generations. That unique legacy is imprinted in our successful Kobrick Coffee retail Specialty Coffee concept, offering a complete turnkey solution through our licensed program.

We believe in creating healthy, flexible partnerships with operators who share our passion and commitment for specialty coffee. By becoming a Kobricks Licensed Partner, we'll prepare you to operate and manage a branded Kobrick coffee shop or kiosk where you and your team will enjoy the benefits of our proven concept with an impressive track record of success. We provide our Licensed Partners with the knowledge and know-how on an ongoing basis to build success in the specialty coffee business.

Our exclusive, limited availability concepts offer one of the most operator friendly agreements available.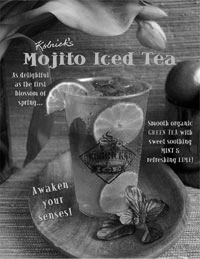 Unlike a Franchise, there are:
- No upfront fees
- No monthly royalties
- No geographic limitations



Elements for fully branded Kobrick Coffee locations include:
- Branded Signage and Menu Boards
- Branded cups, and Java Jackets
- Complete Modular In Store Systems
- Custom build-outs
- Color palettes and finishes



Marketing Support includes:
- Full range of complimentary ultra premium allied products including Teas, Flavor Syrups etc.
- Step by Step recipe cards in support of Hot and Iced specialty beverages programs
- Extensive training with ongoing marketing and operational support.
- Full menu development
- High quality POS materials in support of our specialty beverage promotional calendar

The entire program ensures a dynamic retail environment that keeps customers coming back!



Licensed Partners Are Saying…
"The Kobricks Retail concept is an outstanding revenue driver in our hospital. Participation and customer satisfaction with the overall foodservice program has increased since the implementation of the program."
John Eckelberry,
Director of Nutrition Services
Premiere Health Partners
"I swear that it felt like the coffeee was still warm when we recieved our shipment. our customers are so impressed with the options that are available - light, medium, dark, flavored - you've got it all!"
Anne Witsken,
Retail Manager
40 West 4th St., Dayton, Ohio
Interested in becoming a Kobrick Coffee Partner?